Go to any Florida/Georgia Destination  Professionals can easily conduct business from the laptop trays and power outlets while in transit. Ride in comfort with amenities such as 20" TV/DVD, footrests, and window shades. Kids stay entertained with wireless headphones and movies. Luxury vans and min-buses.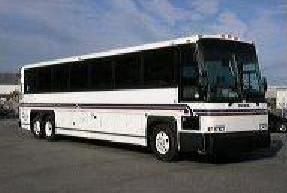 Luxury Charter Buses
  56 passenger luxury charter buses with 6 TV screens, DVD, lavatory, and air conditioning. Step-on guides available. Some destinations include Orlando/Disney, Cape Canaveral/Kennedy Space Center, Daytona, and Savannah. Call for rates. 904-827-1845
Wedding and Events We do ALL special occasions and offer discount packages. Wedding shuttle coordination and planning is FREE. We cover all your wedding day transportation needs from the bride and groom to the out of town guests.
Tailgating Parties Perfect for Jaguar and Gator football games. Plenty of room for coolers and we can attach a grill to the outside excess cargo carrier. We will even get the beer and ice.
VIP Dinner Clubs
Packaged group activities for dinner and sightseeing. Bookings can be gifted to business employees, friends, relatives, or charities as a "Night on the Town". Celebrate your next birthday in style.
Luxury Van Rate (8-passenger): $85/hour
Call for Mini-bus rates (22-passenger, 33-passenger)
Reservations: 904-827-1845 or gary@adlibtours.com
Luxury Vans
8 passenger custom-built luxury vans feature:
6 leather captain chairs, 1 rear leather sofa seat for 2 or 3 passengers
laptop desks & power outlets
window shades
footrests
reading lamps
front and rear AC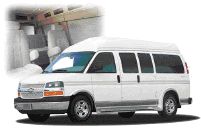 Luxury Van Rate (8 Passenger): $85/hour
Call for Charter Bus and Mini-bus rates
Reservations: 904-827-1845 or gary@adlibtours.com